2019 HAKA RUGBY GLOBAL ELITE CAMP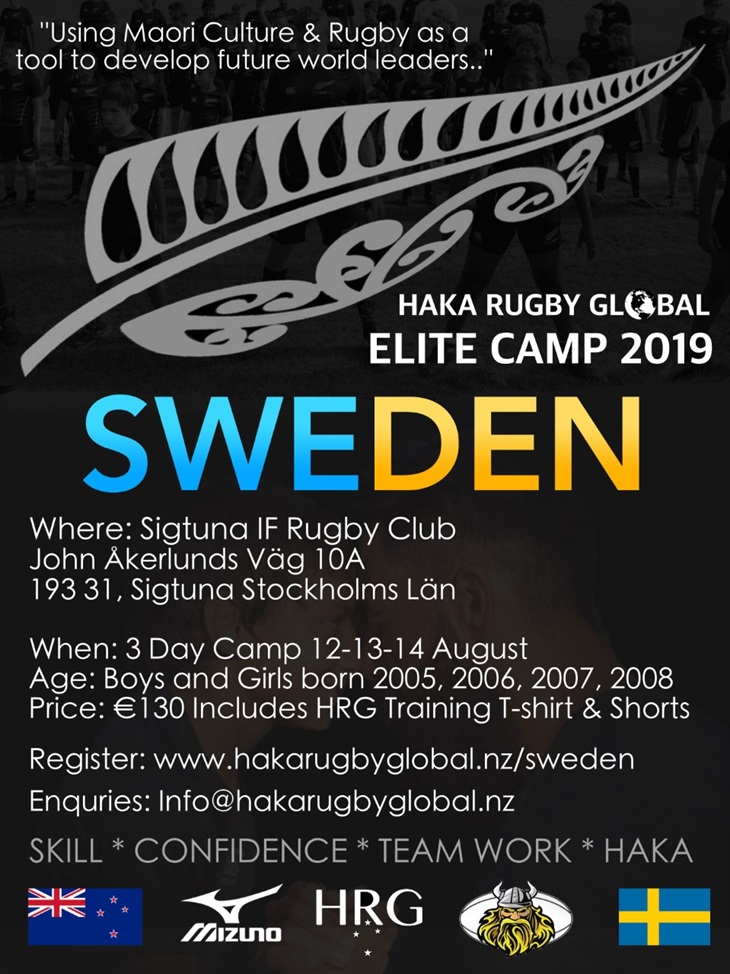 Hey team,
Some extremely exciting news. An amazing opportunity has arisen with the help of members from Exiles and Sigtuna Rugby Clubs, along with support from the Stockholm Rugby Union!
Next year the famous European-based "Haka Rugby Global: Elite Camp" is coming to Sweden for the first time! The day camp runs for three days from 12-14 August and is being offered for the U12 and U14 members (girls and boys born in 2005, 2006, 2007, 2008).
The camp is extremely well priced, is run by professional rugby players, and includes not only the skills of rugby – but also the culture which is encompassed at a New Zealand Maori level and perspective (including learning and performing a Haka!)
The trainees will receive their own training T-shirts and Shorts, along with other gear sponsored by the Stockholm Rugby Union.
While it is still early days, I STRESS that these numbers are limited and likely to go very quickly. Also, this camp is open to the general public.
While it is not an official overnight camp, potential accommodation and travel arrangements will be able to be organized by our two respective clubs nearer the time – so that people aren't put out by any problematic logistics.
Further details will be explained to the children at trainings but if you have any questions please don't hesitate to contact myself of Rick!
While we hope to continue this camp into 2020, and beyond, it may also be a once in a lifetime opportunity in Sweden – so don't miss out!
Further details are attached on the flyer, and the registration form is on the attached website www.hakarugbyglobal.nz/sweden
Regards
Brad
---